CSA: 'Transformational change' necessary to fight, win future conflicts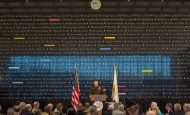 FORT BELVOIR: The Army must engage in "transformational change" — not incremental improvements — to achieve overmatch, deter great-power competition, and win the future fight, the Army's top officer said Tuesday.
"'People first, winning matters,' is more than just a slogan," said Army Chief of Staff Gen. James McConville. "People first is a philosophy … winning matters is an attitude."
"[Secretary of the Army Ryan McCarthy] and I aren't trying to fight the last fight better. We're focused on winning the next fight. To do that, we recognize the need for transformational change," he added.
McConville spoke during an Association of the U.S. Army breakfast at the National Museum of the U.S. Army, slated to open on June 4.
To illustrate the difference between incremental and transformational change, McConville held up an old corded telephone and discussed various marginal upgrades made to the technology.
The chief later held up a smartphone device and highlighted the importance of innovators in the Army.
"[Mobile technology] transformed our understanding of what a phone could be," McConville said. "It navigates, it takes photos, it does hundreds of other functions we never imagined 40 years ago.
"New and different perspectives are necessary for innovation," he added. "We have to encourage innovation; look for it in unexpected places, and we must embrace it when we find it."
A NEED FOR CHANGE
The Army's last significant transformational change happened in the late 1970s and 80s, following its role in the Vietnam conflict, McConville said. Lessons learned during Vietnam aided in the development of the Air-Land Battle doctrine, which revolutionized the way the Army engaged in conflict.
Around the same time, the force also modernized its fighting systems with the inclusion of the "Big Five" — the M1 Abrams tank, Bradley Fighting Vehicle, Apache and Black Hawk helicopters, and the Patriot missile system, McConville said. The nation's engagement …read more
Read more here:: Defence Talk (land)