US Army Space team supports Australian fire fighters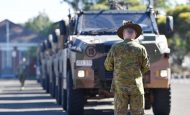 U.S. Army Space and Missile Defense Command Soldiers and civilians not only defend the nation's high ground, they also support Australian fire fighters defending their homes "Down Under."
Answering the call to assist in recovery, the Regional Satellite Communications Support Center-Pacific, or RSSC-PAC, is providing planning support to Australian and New Zealand Defence forces for Operation Bushfire Assist.
Responsible for planning Wideband Global Satellite System, or WGS, SATCOM missions, RSSC-PAC supports all Australian and New Zealand Defence forces operating in the Pacific area of responsibility on a daily basis. Australia made the first request by submitting an immediate Satellite Access Request, or SAR, to support units participating in the bushfire assist effort.
"In response to the wildfire crisis in Australia we ensured rapid response and quick turnaround of satellite resource requests ensuring that Australian military elements were able to communicate and coordinate response efforts on the ground," said Robert Driskell IV, Wideband Cell chief at RSSC-PAC supporting operations over Military Satellite Communications in the Indo-Pacific area of operation. "We started to receive requests for satellite resources supporting this effort Jan. 5 and our support is expected to last until early February.
"All support efforts undertaken by RSSC-PAC have occurred remotely from our home station at Wheeler Army Airfield in Hawaii," Driskell added. "We do not have any members currently deployed supporting the effort. Americans can be proud of the support that their armed forces provide to humanitarian relief efforts which are numerous and varied. These efforts toward international cooperation embody the American desire to use our immense resources to aid our allies and promote peaceful collaboration globally."
Driskell said RSSC-PAC supports Australian requests for SATCOM services over the WGS as part of a joint memorandum of understanding, or MOU, between the U.S. and Australia. He added that the Australian Defence forces are the single largest …read more
Read more here:: Defence Talk (land)