Autonomous vehicle technology may improve safety for US Army convoys
U.S. Army convoys could be made safer for soldiers by implementing autonomous vehicle technology to reduce the number of service members needed to operate the vehicles, according to a new study from the RAND Corporation.
"The Army is interested in autonomous technology because if they can reduce the number of soldiers needed to run a convoy, they can keep soldiers safe," said Shawn McKay, lead author of the study and a senior engineer with RAND, a nonprofit research organization.
McKay and his colleagues examined three different autonomous vehicle concepts: the fully autonomous employment concept, where all the vehicles are unmanned; the partially unmanned employment concept, featuring a lead truck with soldiers followed by unmanned vehicles in a convoy; and minimally manned, a "bridging" concept featuring a soldier in the driver's seat of each of the follower trucks to monitor the automated system and driving environment.
A minimally manned Army convoy put 28 percent fewer soldiers at risk compared to current practices. A partially unmanned convoy would put 37 percent fewer soldiers at risk, and a fully autonomous convoy would put 78 percent fewer soldiers at risk.
The technology to make an Army convoy fully autonomous doesn't exist yet. McKay said part of the challenge for the Army is that current automated technology is still limited and has mainly been tested in settings with well-manicured infrastructure, including standardized road markings and signs.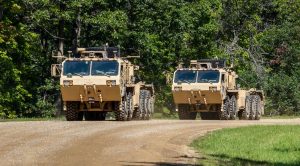 "We're looking at a combat environment – it's very complex," McKay said. "An Army convoy could be operating in a Third World environment where road markings and road conditions are very poor, there's open terrain, there's herds of …read more
Read more here:: Defence Talk (land)