US Army budget request eyes $2B boost for modernization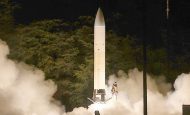 The Army proposes to add over $2 billion to its modernization efforts next fiscal year that will help continue to develop hypersonic missiles, future aircraft and combat vehicles.
The fiscal year 2021 budget request released Monday asks for $10.6 billion for the Army's six modernization priorities, a jump from this fiscal year's enacted budget of $8.5 billion.
Of those priorities, long-range precision fires will receive $1.7 billion, if the budget is approved as is. Within it, $800 million would fund a long-range hypersonic missile program that aims to fill a critical capability gap against anti-access/aerial denial capabilities, according to budget documents.
The Army expects to field its first hypersonic unit and fire test shots in fiscal 2022, followed by fielding combat rounds in fiscal 2023.
In the future vertical lift portfolio, the Army requested $514 million to complete the final design phase of the Future Attack Reconnaissance Aircraft, a replacement for the AH-64 Apache and retired OH-58 Kiowa Warrior.
Under the next-generation combat vehicle priority, $328 million is set aside to fund the Optionally Manned Fighting Vehicle that will replace the Bradley Fighting Vehicle. Last month, the Army canceled its solicitation for a rapid prototype and plans to solicit it again to gain more interest from industry in order to build a better vehicle.
An additional $135 million is slated for the Mobile Protected Firepower vehicle that will fund rapid prototyping efforts ahead of limited-user testing in fiscal 2022.
The air and missile defense priority is also allotted $376 million for lower tier air missile defense sensors that provide detection capabilities for the Patriot missile system. Another $236 million will fund increment 2 of the indirect fire protection capability, a mobile, ground-based weapon system designed to defeat unmanned aircraft systems, cruise missiles and rockets, artillery and mortars.
To help fund these priorities, the proposed budget realigned $2.4 billion …read more
Read more here:: Defence Talk (land)